August 2021 is a big milestone for me… Ten years in publishing!
A Guest Post by Lisa Kessler
Somehow it feels like yesterday, and a lifetime ago, all at the same time. So much of the publishing world has changed in the last decade. In August of 2011, my first book, Night Walker, released from a small publishing house. In 2012 they rereleased it in mass-market trade paperback to Barnes & Noble stores across the United States. The series went on to be translated into French as well. I thought I was on my writing career was set.
I had no idea at the time how quickly publishing would change.
In 2011, self-publishing was still a new frontier for the most part. The "Big Six" North American publishing houses still dominated the shelves. But as the years passed, the publishing landscape faced some big changes. The Big Six shrank to the Big Five and now the Big Four. For authors, that meant fewer publishing slots for traditionally published titles.
But while all the consolidating was happening, self-publishing platforms like Nook Press, now Barnes & Noble Press, made it easier for authors to get their stories directly into readers' hands. It also gave us more options to reach readers through eBooks and trade paperbacks. And the innovation didn't stop there. New developments grew for indie authors to find narrators and create their own audiobooks, again bringing new stories to readers.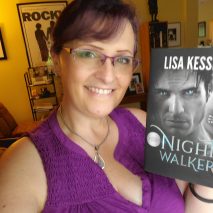 And as the years passed, a new version of "the path" emerged for writers like me, hybrid publishing. As a hybrid author, I still publish some books through a traditional publisher, as well as simultaneously publishing on my own through Branes & Noble Press and other self-publishing platforms. Approaching my publishing career in this hybrid fashion gives me the ability to publish more indie titles. And launch them out into the world more often, because I'm not competing for spots at a publishing house. Then my traditionally published books continue to offer me additional support and reader outreach that helps me grow my reader base. It's the best of both worlds.
Now Barnes & Noble Press has added another exciting facet to self-publishing by making hardcover book editions with a dustjacket available for indie authors. Through this new avenue, I was able to publish a new 10th Anniversary edition of Night Walker with a new foreword. I'm thrilled with the quality of the book. And I'm so excited my readers will have this option for their shelves.
After a decade of being an author and writing forty books so far, I'm still learning and growing as the publishing landscape changes, but I'm very optimistic about the future.
For authors and readers, there has never been a better time to find a great book.
About Lisa Kessler
Lisa Kessler is a Best Selling author of passionate, page-turning paranormal fiction. She's a two-time San Diego Book Award winner for Best Published Fantasy-Sci-fi-Horror and Best Published Romance. Her books have also won the PRISM award, the Award of Excellence, the National Excellence in Romantic Fiction Award, the Award of Merit from the Holt Medallion, and an International Digital Award for Best Paranormal.
Her short stories have been published in print anthologies and magazines. And her vampire story, Immortal Beloved, was a finalist for a Bram Stoker award.
When she's not writing, Lisa is a professional vocalist, and has performed with San Diego Opera as well as other musical theater companies in San Diego.
You can learn more at http://Lisa-Kessler.com