At B&N Press, we can't believe 2022 is almost in the rearview mirror! That means it's time to celebrate what a great year it's been. Across the board, we couldn't be more excited for all the progress we've made at B&N Press, NOOK, B&N as well as the amazing achievements of the indie author community.
Let's look back at the year as we look ahead to the new year to come!
B&N Press Celebrates Authors
We had a lot to celebrate this year. Back in June, B&N Press hosted an in-person event at B&N Union Square to talk all things indie publishing. The event included participants from B&N Press and the indie author community as well as a special NOOK eReader giveaway and eBook offer.
We know readers write too and we loved the chance to speak to the efforts of this remarkable industry. Especially, in the month of November when we celebrated National Novel Writing Month (NaNoWriMo) with write-in events across the country at B&N stores. We know in 2023, there will be plenty more ways for our retail stores and B&N Press to continue partnering together.
To that, the indie author and publisher community has grown substantially in the twelve years since we first launched as PubIt. To service indies better, we wanted to make sure there was a dedicated space on BN.com to showcase these gains. The Indie Books online storefront was completely revamped to include more indie titles, dynamic merchandising, and self-publishing resources.
And don't sleep on B&N Press print-on-demand, either. Print books are still an important medium in indie publishing and our print side is growing by leaps and bounds including over twenty trim sizes, hardcover print options, and the ability to order advanced copies.
By The Numbers
This year saw an incredible catalog of new titles in both eBook and print published by Indie authors. Of the nearly 35,000 New Titles on sale this year, the top 5 B&N Press genres sold were:
In eBooks, the top selling B&N Press title was the blockbuster addition to Jennifer L. Armentrout's Blood and Ash Series, THE WAR OF THE TWO QUEENS.
"As the fourth book a series something different was expected to keep readers engaged, intrigued and invested. The author definitely delivered. I read all four books in this series within a week. The evolution of the story and characters by book four was fantastic. As a reader you got more of what drew you to this series and then some. The tie in to the prequel books was brilliantly done. Master story telling."
As for print, the last few years have brought a new spotlight on the medical community. Reflecting that, the top selling B&N Press print book was FIRST LINE GUIDE by Tania Abousaid.
"Just enough information without overkill but still thorough. The perfect book to reach for in almost any scenario. Couldn't recommend more."

– BostonPA3, B&N Reviewer
Read Forever on NOOK
The B&N eReader known as NOOK hasn't just endured but expanded in offerings this past year!
At the start of 2022, the new and improved B&N NOOK App launched with more user-friendly discoverability, integrated audiobooks, and an improved personalized experience. While you may not be able to make in-app purchases due to the regulations of the operating hosts, you can grow your TBR and TBL piles by saving titles to your Wishlist.
Did you also know NOOK launched three (!) different eReaders in 2022? That's right, THREE. Over the course of a year, B&N welcomed the new NOOK GlowLight 4, the NOOK GlowLight 4e, and the NOOK GlowLight 4 Pearl Pink Limited Edition. Isn't it pretty?!
Each of our eInk GlowLight devices offers comfortable soft-touch finishes, touchscreen and page-turning buttons, extended battery life, glare-free screen for easy reading in direct sunlight, plus so much more.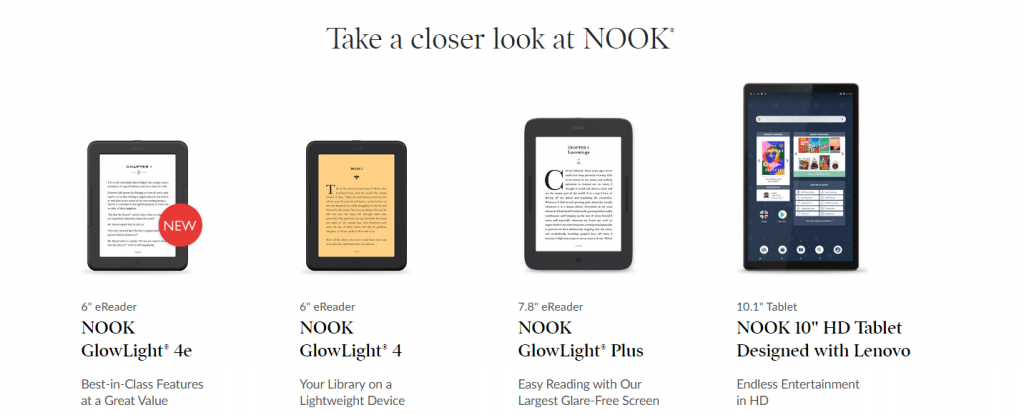 Carry thousands of books everywhere life takes you and find the eReader that's right for you.
Audiobooks Anytime, Anywhere!
In the spring, B&N and NOOK launched our new Audiobooks experience. Now, listeners can shop their favorite audiobooks seamlessly on both BN.com and the new B&N NOOK app. Whether shopping for individual titles or with our subscription service, B&N Audiobooks is easy listening for book people, by book people.
And that includes the indie publishing community. With the launch of Audiobooks, we teamed up with Findaway Voices to help indie authors and publishers create and distribute audiobooks. As a popular and growing format, we understand Audiobooks are a way to find a new audience and build a new revenue stream. To create an audiobook version of your B&N Press book, head over to Findaway Voices to get started today.
And that's all she wrote! Just kidding 😊 There was so much more we would have loved to share, but these were the main events that truly stood out.
Until next year…
Write on!
Discover more favorite Indie eBooks and Special Collections: